Last updated on 9/17/22


View My Guestbook

Sign My Guestbook




Last updated on 9/17/22
Site established on 3/22/01
361st Aerial Weapons Company - "Pink Panthers"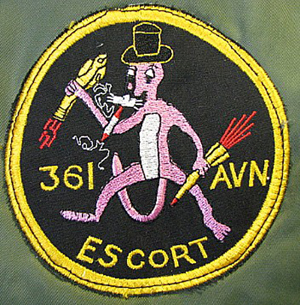 This is the early 361st patch. "I was in the 361st Aviation Co. (Escort) "The Pink Panthers" from the beginning in the states. The name change from 361st Aviation Co. (Escort) to 361st Aerial Weapons Company was in November 1971. I was there from April 1968 to May 1969." - Skip Skipper
Image courtesy of Skip Skipper
All images remain the personal property of this site and the contributor of the photo. You may download them for your personal use but they may not be published or used on any other site without written permission from the webmaster and the contributor.