The 765th Trans Bn did a lot of support missions for the 1st Cav and other combat units. At that time we were assigned to the 765th Trans Bn (ADS), Vung Tau, and received most of our missions from 34th Gen Spt (ADS), Saigon located at Ton Sey nhut AFB. My particular duties came from ground commanders who needed supplies, insertions or evacuations and also Aircraft Recovery via FM 38.7 or from ground controllers on UHF or VHF. There were many joint operations with the other divisions that we also supported. Some days we would get the stuffing knocked out us and the next time we would lower the boom on the NVA and black pajama boys (VC). The other units that supported ALL operations in RVN are too numerous to mention. Courtesy Devon Nooner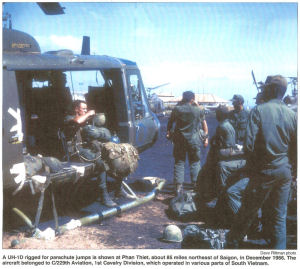 I was on support mission from 765th Trans Bn while Operation Iron Triangle was being prepared. The whole operation included 99 UH-1's models D, H, C (Gunships).
Image courtesy of Devon Nooner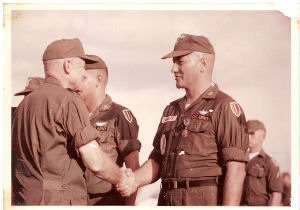 Col A.C. Kincade awarding CW3 Devon Nooner 1st Air Medal, 26 Sept '66 at tarmac, Vung Tau Airfield, 765th Trans Bn (ADS). Other awards received from tours in RVN are: DFC PH 19 AM 3 BS ACM GCM (2) NDSM (2) AOM(GER) MAAB MUC VSM 5 BATTLE STARS MSC AFRM RVN GALLANTRY CROSS W/PALM UNIT CITATION.
Image courtesy of Devon Nooner