Last updated on 9/17/22


View My Guestbook

Sign My Guestbook




Last updated on 9/17/22
Site established on 3/22/01
P.O.W.
We are looking for input on any Helicopter Pilots or crewman taken as POWs during the conflict. Please contact us at jpconway@sbcglobal.net if you have any information or photos you'd like to share.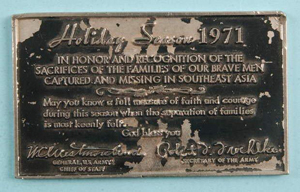 1971 Christmas Plaque sent to families of those known to be Prisoners of war in North Vietnam
All images remain the personal property of this site and the contributor of the photo. You may download them for your personal use but they may not be published or used on any other site without written permission from the webmaster and the contributor.