Last updated on 9/17/22


View My Guestbook

Sign My Guestbook




Last updated on 9/17/22
Site established on 3/22/01
Medal of Honor
Click on a name to see details about the recipient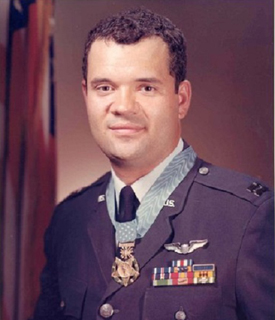 James P. Fleming
Citation:
The President of the United States of America, in the name of Congress, takes pleasure in presenting the Medal of Honor to Captain [then First Lieutenant] James Phillip Fleming, United States Air Force, for conspicuous gallantry and intrepidity in action at the risk of his life above and beyond the call of duty while serving with the 20th Special Operations Squadron, 14th Special Operations Wing, in action near Duc Co, Republic of Vietnam, on 26 November 1968. Captain Fleming distinguished himself as the Aircraft Commander of a UH-1F transport Helicopter. Captain Fleming went to the aid of a six-man Special Forces long range reconnaissance patrol that was in danger of being overrun by a large, heavily armed hostile force. Despite the knowledge that one helicopter had been downed by intense hostile fire, Captain Fleming descended, and balanced his helicopter on a river bank with the tail boom hanging over open water. The patrol could not penetrate to the landing site and he was forced to withdraw. Dangerously low on fuel, Captain Fleming repeated his original landing maneuver. Disregarding his own safety, he remained in this exposed position. Hostile fire crashed through his windscreen as the patrol boarded his helicopter. Captain Fleming made a successful takeoff through a barrage of hostile fire and recovered safely at a forward base. Captain Fleming's profound concern for his fellowmen, and at the risk of his life above and beyond the call of duty are in keeping with the highest traditions of the U.S. Air Force and reflect great credit upon himself and the Armed Forces of his country.
General Orders: GB-477, June 23, 1970
Action Date: 26-Nov-68
Service: Air Force
Image and information courtesy of Capt. Allan L. Henderson
All images remain the personal property of this site and the contributor of the photo. You may download them for your personal use but they may not be published or used on any other site without written permission from the webmaster and the contributor.