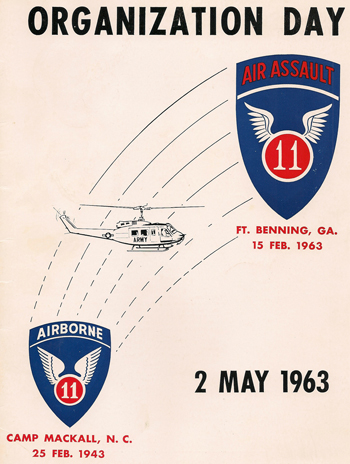 I really cannot add much to the 1963 Air Assault Organization Day other than to say "during the pass in review for the dignitaries, I still recall when about 15 hovering helicopters moving in formation including one I was flying did an "eyes right" and we all turned the helos to the right 45 degrees just as soldiers would do with their heads and passed the reviewing stand - figuring helos doing this were a new first!."

Click on the image to view the other pages of the pamphlet
Courtesy of David Grieshop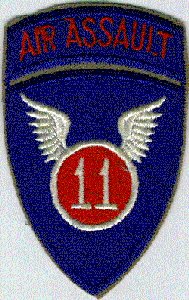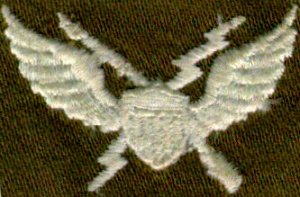 I was assigned to the 11AAD right out of infantry AIT in Oct 64.  The Division was in the middle of Air Assault II, the last exercise to prove the air mobility concept.  They were in S. Carolina against the 101st Airborne as the red force.  I was in the last couple of months of that exercise. I have attached the old division patch (I have one around in a scrap book somewhere) and the original Air Assault Badge.  The badge was a division award, so we couldn't wear it after we transitioned to the 1st Cavalry Division .  I was at Doughboy Stadium at Benning as the right rifleman in the Division color guard when we cased the 11th AAD.  As we marched off the field, the cased colors of the 1st CD came in and were unfurled. That was the official transition. I remember standing in my barracks watching Lyndon Johnson on one of the guys little black and white TV when he said "I have at this time ordered the Air Mobile Division to Viet Nam".  This was no surprise, we knew we were going, but to hear him say that for some reason increased the pucker factor a lot:)) - Paul Jones
Image courtesy of Paul Jones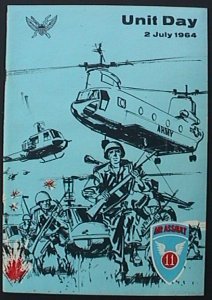 The Birth of the Air Cavalry" - Official Program issued for Unit Day, 1964 of the newly formed 11th "Air Assault" division. The founding element for the First Cavalry Division, Airmobile. The publication is filled with photos of unit officer's and staff, activities and explanation of the Air Assault concept.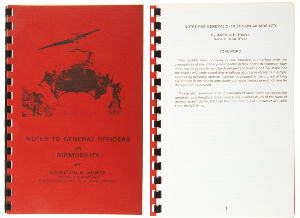 Early Primer on the Air Mobility Concept developed for distribution to General Officers by then retired General Hamilton Howze courtesy of Bell Helicopter.
Image courtesy of General George Beatty estate via Chaplain Bob Nay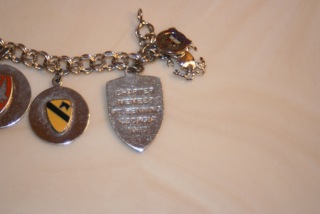 Back side of the 11AAD charm on my wife's bracelet; it reads "Charter Member - Fort Benning - Georgia - 1963" (dashes added).
Image courtesy of David Grieshop