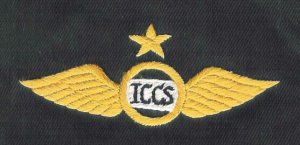 Image courtesy of John Cook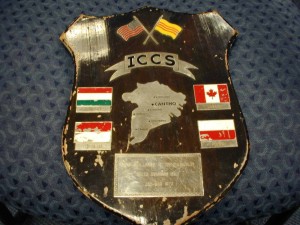 ICCS plaque awarded to participants for service on the operation as well as a group of recipiants shortly after the presentation.
Image courtesy Bill Pecknold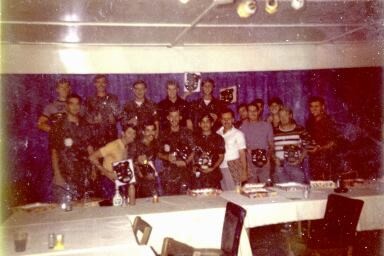 Photo taken at Can Tho Officer's club, March 25, 1973 Top Row LtoR Lt. Duggins, Rodgers, Schol, Skuzi & Me (Bill Pecknold) Middle row: Walker, ?, Schere Bottom Captain Knoch, Heburt, Harris, Spitz, Beccerie, Clemits, (Jody) Glover, Morgan, SFC Oscar G....
Image courtesy Bill Pecknold
"Official ICCS vehicle identification flag retained as a souveiner and signed by fellow participants".
Image courtesy of Bill Pecknold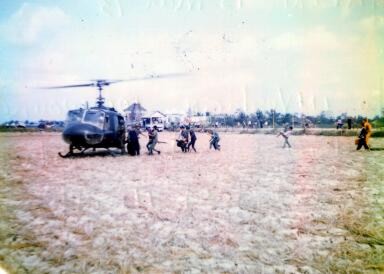 "Photo taken 15 March, 1973. We took ICCS & JMC people in to investigate. 100 wounded & 20 Killed when a village got hit last night. They are placing wounded on the aircraft in this picture".
Image courtesy Bill Pecknold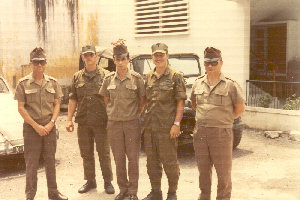 Hungarian ICCS - I'm on the right (my right, not the military right - note US uniform) and Chris Gallavan is on the left (also US uniform). The others were members of the ICCS peacekeepers. I believe they were Hungarians. The one on the far left is a Hungarian Lieutenant Colonel, the next is a Hungarian Captain and the one on the far right is another Hungarian Captain.
Image courtesy Don Langlois

Real live Government issue ballpoint pen as carried in the sleeve pocket of the Nomex flying shirt ehroughout ICCS operations.
Image courtesy of Bill Pecknold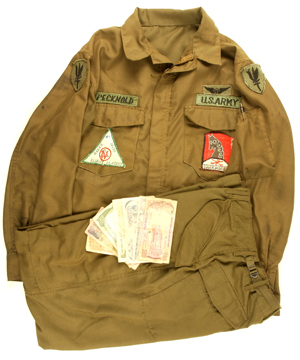 2 piece "Nomex" flight suit ust as they were when I left Vietnam in 1973. I flew in the Nomex up until the cease fire on Jan 27th 1973 and beyond with the ICCS until April 15TH 1973. The night before the cease fire I removed the M60ís from my UH-IH and I flew with a Army issue shoulder holster 45 CAL.
Image courtesy of Bill Pecknold