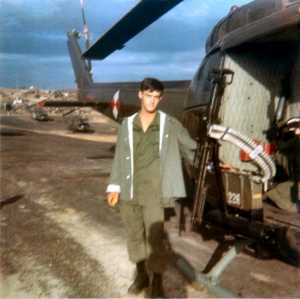 Herman "Hermie" Schindler standing next to 66-16226. She was a D model Huey with A Company 101, late 1968. Hermie says they had just removed the Eagle off the tail boom, and she now sports the early marking identification of A Company in its place. No interesting combat information on the VHPA C.D. database.
Image courtesy of Hermie via Randy White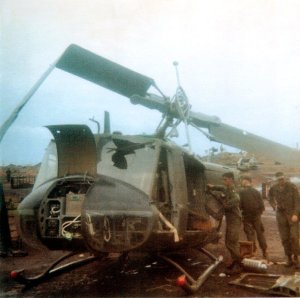 A picture of 66-16982 of Company A 101 AHB after meshing rotor blades with 66-17062 on Aug. 5, 1968. This date marked the beginning of Operation Somerset Plain into the A Shau Valley. After the accident 982 was repaired and sent to the 116 AHC, where she was lost on April 1, 1971 with 2 KIAs. Pictured is Herman "Hermie" Schindler removing his M-60 after the accident at Camp Eagle. SP5 Donald Kennedy is listed as wounded during this accident [non hostile] and is shown as the CE in my records, and confirmed by Hermie. Info on both ships attached.
Image courtesy of Herman "Hermie" Schindler photo Courtesy Randy White