Last updated on 9/17/22


View My Guestbook

Sign My Guestbook




Last updated on 9/17/22
Site established on 3/22/01
HMH 463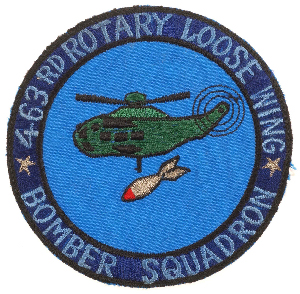 The Rotary Loose Wing Bomber phrase came about when HMH 463 started doing the Trashlite missions. You can read about this on 463's website. One of the pilots, Lt. Coday I believe came up with a make shift bomb site and we would fly at a lower than usual altitude until we drew fire then we would pickle our load. Our load was as I recall an external net loaded with 20, 55 gal drums of napalm. The first time we did this mission I believe was in July, 1970. I have a news clipping stating that we dropped 462 tons of ordnance in that one day.
Image courtesy of Larry South
All images remain the personal property of this site and the contributor of the photo. You may download them for your personal use but they may not be published or used on any other site without written permission from the webmaster and the contributor.