These pics are from my first tour, 67 -68. I was young and foolish and not yet an "older and wiser"? aviator. Unit was B Company, 2nd Bn/12th Inf/3rd Bde/25th Inf Div. The Brigade basecamp was located just outside the Michelin rubber plantation, Dau Tieng, III Corps, RVN. However, our battalion was inside a small portion of the plantation. Nice shade trees. Except for the trees in our area, it was a working plantation. The raw rubber was processed in the village and shipped by barge down the Saigon River. Hooches were wood frames, raised floors, screened and covered with a general purpose tent. Four feet of sandbags around the outside of the hooches protected us from other than direct hits from incoming rocket or mortar fire. Since most of our time was spent in the "boonies" this place was really like heaven when we got in. - David Ayers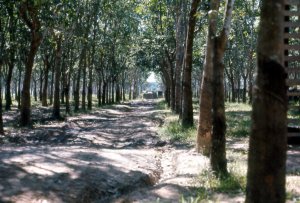 From in front of platoon leader's hooch toward the perimeter. A bunker can be seen at the end of the trees.
Image courtesy of David Ayers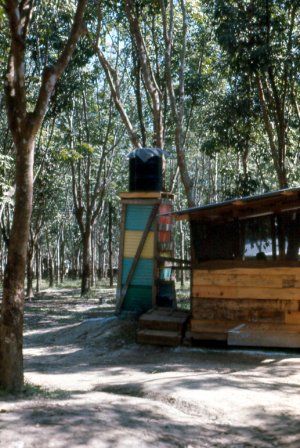 The officer's shower. Two 55 gal drums on a wood frame. Our XO was wounded by a direct hit by a mortar round while taking a shower. The Korean PA&E employee living in the small wood hooch just to the right, dragged him into his bunker.
Image courtesy of David Ayers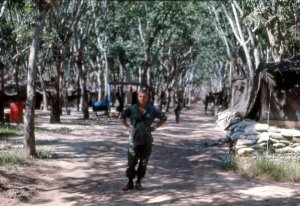 LT John Byrne on the "mall".
Image courtesy of David Ayers