&nbsp
Ancestors - A section dedicated to paying homage to the men and women who went before. Those who served and those who inspired.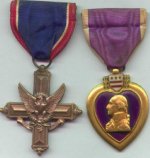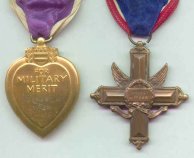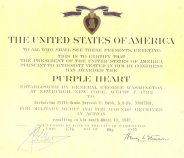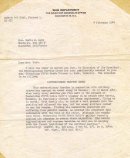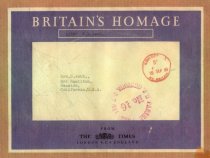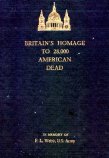 "My father gave me my uncle's medals and certificates in 1999. I had been named after my uncle and all I knew about him up to that date was that he had died during WWII. I was born in 1949. I had no knowledge that the medals existed until that day in 1999. My father landed on the beach at Normandy on d-day with the 29th Inf. Div. He was one of 11 men in his division to fight until the end of the war and not be killed or wounded. My father was a quite man and never spoke much (PTSD?).
I have my uncle's:

- Named Purple Heart medal and certificate
- Named DSC medal and War Dept. award letter
- Casket flag
- Named and numbered book of homage from the British Gov.

Both his medals and mine are engraved "Forrest L. Webb". I have two Purple hearts and Certificates with "Forrest L. Webb" on them, but dated 1945 and 1968. It's a little eerie. I don't know what the odds are of two people in the same family with the same exact name receiving the Purple Heart. My grandmother gave the Army such a hard time that they finally gave up and dug my uncle's body up and shipped it home to be reburied in Monterey, CA. I have visited the grave and it's a little strange to see your name on a headstone." - Forrest L. Webb
Images courtesy of Forrest L. Webb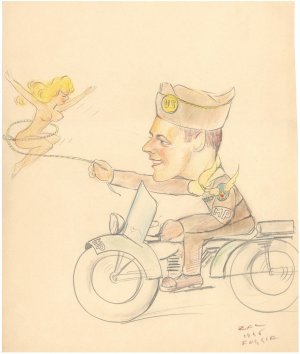 This is a drawing in the manner of "Nose Art" (there was someone with these talents everywhere) of my father roping an Italian girl from the back of his WLA 45 Harley flathead as an MP in Italy (You will see " Foggia '45 in the lower corner, signed by the "artist") Foggia, Italy is where he was at the time. - Doug Kibbey
Images courtesy of Doug Kibbey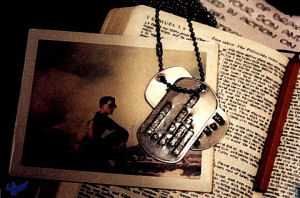 A son's tribute to his father, Ron Rorah, 1st Logistics Support, Tay Ninh 1967
Images courtesy of Shawn Rorah via Doug Kibbey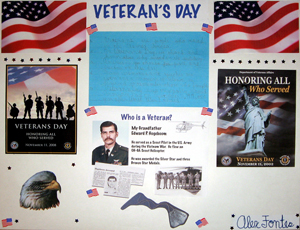 My grandson created this for his first grade project. "You'd be so proud Pop he scored 100% on his project, and he told your story to all the kids. One of his classmates asked if he'd ever seen his grandfather; apparently some never made it back. We thank the Lord you did!"
Images courtesy of Edd Hogeboom on behalf of his grandson Alex Fontes and family