Last updated on 9/17/22


View My Guestbook

Sign My Guestbook




Last updated on 9/17/22
Site established on 3/22/01
520th Transportation Detachment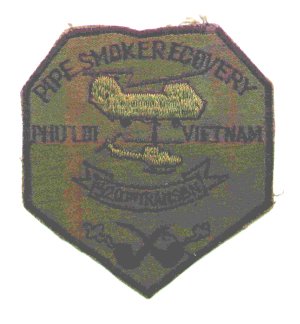 This is a unit patch from "Pipesmoke Recovery," a Ch-47 unit out of Phu Loi that recovered downed aircraft. We sent them a lot of business when we worked in III Corps.
Image courtesy of Tillman Jeffrey, 335th AHC "The Cowboys"
All images remain the personal property of this site and the contributor of the photo. You may download them for your personal use but they may not be published or used on any other site without written permission from the webmaster and the contributor.