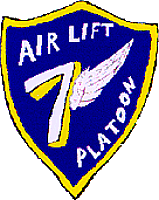 7th Airlift Platoon" (Provisional) Call sign "Snow White" is one of the units mentioned in the VHPA Directory. The platoon was formed in late 1967 as a classified unit in Ft. Riley, KS, it's first designation was "P-001". The unit was deployed to Korat Thailand in February 1968. We were direct supported for the 46th Special Forces Company and also supported USARSUPTHAI. I understand the 7th was later totally assigned to the 46th Special Forces Co (but that was after my time)
Image courtesy of Joe Frey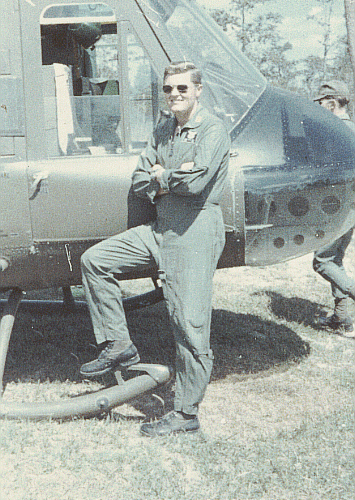 Joe Frey, 7th Airlift Platoon, waiting for somebody to get a briefing from NKP, Thailand, 1968
Image courtesy of Joe Frey - 7th Airlift Platoon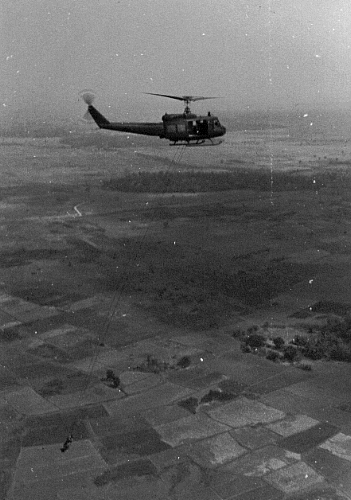 This is a McGuire Rigg extraction out of Laos, 1968.
Image courtesy of Joe Frey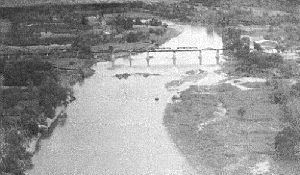 This is The Bridge on the River Kwai. The building to the right of the bridge is a Bar. This is near Konchenoburi, Thailand where we assisted the 46th Special Forces Company in training "The Queen's Cobras". A Thai Division deployd to Vietnam.
Image courtesy of Joe Frey - 7th Airlift Platoon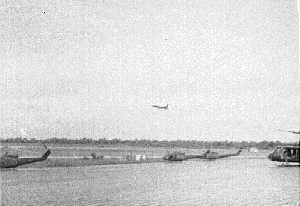 This is the Army Ramp at Camp Friendship Korat (KRT) Thailand. It is next to Korat, US Air Force Base, notice the F-105, in the background, departing for North Vietnam. The Air Force Base was concrete and asphalt, Camp Friendship was Pierced & Nonpierced Planking and Dirt
Image courtesy of Joe Frey - 7th Airlift Platoon